Creator: Pacthesis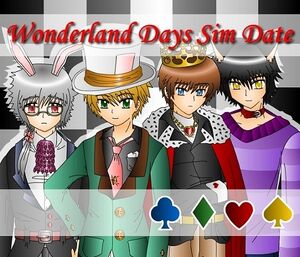 Languages: English
Type: GxB
Rating: Teen
The game starts out with a cut scene of Alice(her name can be changed by the player) and her childhood friend, Noah sitting in a field on Alice's birthday. Noah says that he has forgotten her cake and the bakery is not open on Sundays. Noah then says he has her present and will be right back to get it. While Alice waits for Noah to return she sees a figure run past her(later revealed as Oliver) and she follows him down the rabbit hole. There is a thud and Alice wakes up(we presume she is knocked unconscious from the fall)to Oliver. Oliver allows her to stay at his house as compensation for causing her to be in Wonderland. Alice must stay in Wonderland for a month(or thirty days)until the hole reopens, allowing her to go home.
Love Interests
Edit
Noah
Oliver (White Rabbit)
Clark (Mad Hatter)
Lance (Cheshire Cat)
Elliot (King of Hearts)
Jack (Caterpillar)
Ad blocker interference detected!
Wikia is a free-to-use site that makes money from advertising. We have a modified experience for viewers using ad blockers

Wikia is not accessible if you've made further modifications. Remove the custom ad blocker rule(s) and the page will load as expected.