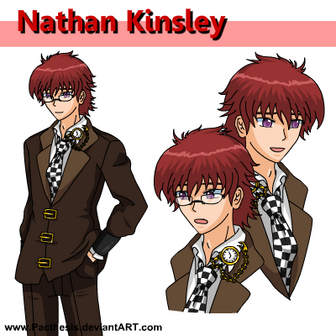 From: Chrono Days Sim Date
Appearance
Edit
Nathan has red hair and purple eyes. He wears glasses.
He wears a brown suit and white collar shirt with a checkered tie. His suit, instead of buttons has buckles and he has a pocket watch on his collar.
Personality
Edit
He is very kind and generous to strangers as shown when he first meets Saige. He is very hospitable, letting her stay at his home until she can figure out how to get home. He allows her to sleep in his bed while he sleeps on the couch and states he doesn't want her to feel like a burden.
He first appears when Saige arrives 100 years in the past.