Creator: Venus Eclipse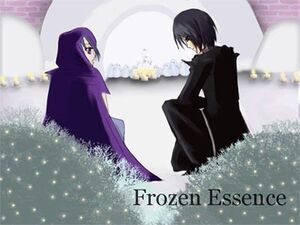 Languages: English
Type: GxB
Rating: Teen
Mina had been locked away in her crystal prison for years. One day, a group of people who must make sure she stays put in that prison suddenly find that it has somehow started to break, and now Mina is free. She is saved by the Oracle, a well-known and wise man who wears a black cloak and never shows his face. He tells her all she needs to know (one hundred days after her escape; a period which she was asleep during). She wanders through her castle and meets three of her bodyguards. There is Rune: A protective blond that knows what is right and what is wrong; Caius: A careless, pain-loving man who doesn't seem to like people; and Aysel, a sweet and gentle girl that seems too small to guard anyone.
One day, Mina starts to hear voices. They seem to plead her to save him, but cannot hear her. She feels the need to save him: especially when she hears they may be alike.
Finally, the voice has haunted her too much. She can't take it anymore. Mina makes her way to the front of the castle and steps out into the other world.
More like the freezing cold and harsh world.
Help Mina decide what choices she must make. Guide her through her love life. And maybe, she'll fall in love.
Characters
Edit
Mina
Oracle/Zareh
Rune
Aysel
Caius
Varian
Aurelius
Other Character
Edit
Oryion
Vitus
Virgil
Cascade
Auntie
Love Interests
Edit
Rune
Caius
Varian
Aurelius
Zareh
Life
Air
Earth
Fire
Water
Death
99.50.226.107 01:40, March 31, 2013 (UTC)